Here at Thompson Long Range, your trusted Long Range Shooting School and rifle provider, we love to share hunting stories from our happy customers. Today, Gina Thompson is sharing with us what it was like shooting her buck!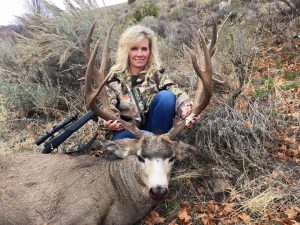 "Being married to a husband who loves the outdoors and hunting requires patience, understanding, and an interest in doing the same.  I love the outdoors and being a part of the things my husband Mark and two sons Scott and Mike enjoy.  Hunting is at the top of their list which means lots of hours traveling, glassing, checking trail cameras, hiking, and horseback riding fill our summer and fall months. I am not sure how many tags in different states the three of them have every year (probably best I don't know), but it is well thought out and planned to not overlap too much and still be able to spend quality time on each hunt together. The same goes for my hunts, obviously I can't do it alone, so when I draw a tag the planning is all up to them so all bases are covered.
This year I possessed a Northern Utah General Rifle Deer tag, with other hunts in Northern Utah prior to the rifle deer, and approximately 60 trail cameras spread all over the place which meant some great bucks were showing up. On one occasion, my husband and I hiked a mile and a half in to check a camera in a deep pine canyon. We had just checked the camera and were sitting on a small ridge glassing when Mark said, "check this buck out!" As I looked through the spotting scope, I could make out the white rump but wasn't putting the rest of the picture together. Then the bucks head moved. What I had thought was a grey rock and a clump of brush were actually a throat patch and antlers! A great public land non-typical mule deer which was still in velvet. Another buck, that took a bit of a horse ride to get to, had a drop tine off his right antler and probably reached out to just over 30 inches. Watching through the spotting scope, video footage, and trail camera pictures, all help to identify and study what the animals are all about. I used to make fun of the boys for giving names to particular animals, but it makes sense when you look at so many and need to refer to a specific one. Numbers would also work but significant names seem to match the makeup of the animal better. Split Ears, Peg Leg, Snag, Flower, Too Tall, and Doubles are just a few I hear and could point out in a line up.  
The plan was in place to go after Too Tall; his location was good, he seemed to be comfortable, and he was secluded yet close to the road. One night Mark came home with some trail camera pictures and video of Too Tall and asked what I thought. I really liked him because he was unique, extremely tall, and had cheaters off both sides. This was the one I wanted, then I said "Hopefully two weeks from today I'll have him at the taxidermist." Mark answered, "You mean three weeks from today." Suddenly a huge knot developed in my stomach, I had made plans to be out of town with my sister that weekend. The question was, should I tell him now or wait a week? I totally messed up and made plans to be gone the first two and a half days of the hunt!!!  I was sick because I didn't want to miss out on a great Mule Deer, yet couldn't get out of the other plans. I had to tell him then and there what I had done. Surprisingly and to my relief Mark said, "We will just hope he is still there when you get back."
I returned home from the overlapping planned trip Monday at noon, two and a half days into the hunt. A quick change of clothes and we were headed up the canyon to see if Too Tall was still at his home after all the opening weekend pressure. We parked the truck, then hiked five minutes from the main road to a small bench, the sound of large trucks and motorcycles echoed up the canyon as they passed. As time slowly passed by, the shadows of the sunset crept up the hill. Suddenly, I caught a white spot along the edge of the aspens. This time I could tell it was the throat patch and tall antlers, it was Too Tall laying there just 300 yards off the road. He was undisturbed which was incredible with all the traffic and hunters and the fact that no one had found him. I whispered to my husband that I found him, we set up the spotting scope and confirmed it was him. The distance was 785 yards, a shot I have made a couple of times, but Mark said with this small valley in front of us we had time to close the distance, so let's go!! As we crested the ridge and peeked over, Too Tall had stood up and started to feed. The distance was 395 yards and he was broad side, couldn't have been more perfect. Mark helped me fold out the Harris Bipod and put the rifle and backpack into position. Crawling up behind the Weatherby 30-378 I immediately had him in the scope, confirming the distance with Mark to be 395 yards. I leveled my 400 yard dot to the kill zone and turned loose the 180 grain Nosler Accubond. Almost before the whack sound returned, Mark said "nice shot!"
As we walked up on the buck that we kept track of all summer, he was more than I expected! Definitely no ground shrinkage on this one! Special thanks to my husband Mark and my two boys Scott and Mike for keeping tabs on Too Tall this past season."
-Gina Thompson